Description
NATIONAL PROGRAMME ON TECHNOLOGY ENHANCED LEARNING (NPTEL)
The National Programme on Technology Enhanced Learning (NPTEL) was initiated by seven IITs (Bombay, Delhi, Kanpur, Kharagpur, Roorkee, Guwahati and Madras) along with Indian Institute of Science, Bangalore (IISc) in 2003 under the Ministry of Human Resources Development, Govt. of India, for the creation of web and video courses in various disciplines of engineering, basic sciences, management and humanities. The idea was to give access to teaching material created by faculty of premier institutes to anyone who has an internet connection and a system and also to make available the best quality of content and education available to anyone who is interested in learning.
ACHIEVEMENTS OF NPTEL:
In the last 18 years, NPTEL has been able to reach a large number of learners and was able to create a huge impact. A summary is given below.
60,919+ hours of video content is available with english subtitles
More Than 1.6 Billion+ Views from learners.
NPTEL channels on YouTube have more than 4.4 Million+ subscribers
NPTEL was able to offer 2500+ courses
Partnered with 4000+ colleges across India as SWAYAM-NPTEL local Chapters.
NPTEL began offering certification to students for participating in open online courses (which consist of pre-recorded video lectures, lecture notes and assignments all of which are online) in March 2014.
Through this online portal, courses of 4, 8, and 12 weeks duration in various engineering disciplines, sciences, humanities and management that include relevant exposure to tools and technologies are currently being offered by NPTEL. We have received more than 1.2 crore enrollments for various courses in NPTEL till date. The certification is an optional part of the open online courses which is a confirmation of the student's participation and performance in the open online course. Since the certification exam is designed to be an in person proctored examination, it involves a registration fee of Rs.1,000 per exam to cover the cost of exam logistics and invigilation
.  
NPTEL EXAM FEE WAIVER INITIATIVE
When a survey was done among students who had scored well in the assignments during the course but who had not registered for the certification exam, a large percentage of them quoted the fee of Rs 1000 being too high to pay due to the economic background of their family and their availing educational loans to pay for the college. In continuation of this objective of aiding students from economically weak backgrounds to complete the course and get a certificate from the IITs which might help them with better employability or higher education,
the fee waiver support request for Rs 500/- per candidate per course was implemented.
 If the student's financial concerns are reduced, they can focus more on studying and learning, which can lead to better retention of knowledge, which in turn, can increase their chances at the job front. Hence the possibility of some external agency instituting some kind of scholarship that enables students to overcome the situation of the fee being a hurdle was thought of. This would be distributed to the students on a merit cum means basis.
Read more..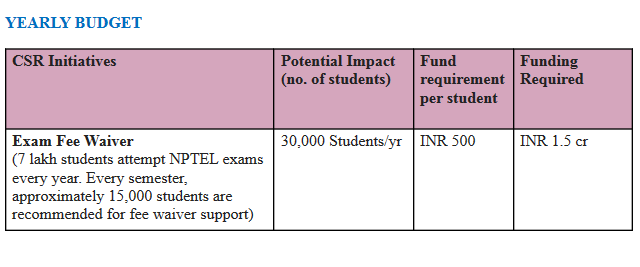 NPTEL Online Certification Courses
No.of Donors :

8
Donate Now
Contributions are eligible for relevant tax exemption