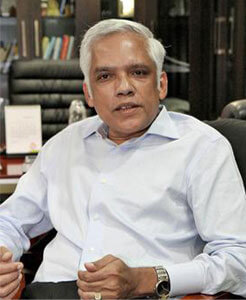 Mr. Raju Venkatraman
Managing Director & CEO,
MEDall Medical Services
Shri. Raju Venkatraman, popularly known as Raju, obtained his B.Tech. in Chemical Engineering in 1981 from IIT Madras and completed an executive MBA, including a 3-tier training program, at Indian Institute of Management, Ahmedabad. He also has a Diploma in Quality Education Systems from the General Motors Institute, USA.
Raju has always led from the front, right from starting his career with Cadbury-Schweppes. At Electronic Data Systems (EDS), he pioneered the innovation and application of Digital Imaging Technology. He led the team in integration of Raster Image Scanning and Tagged Image File Formats with files, compression techniques, optical disk storage, and early adoption of Ethernet communication. He was the founder of Vetri Systems, and a pioneer in Business Process Outsourcing in bringing work to India rather than getting the work done in USA. In this sector, his contributions include adoption of satellite technology for data transmission. He also initiated the movement of BPO to tier 2 and tier 3 cities in India, which opened up many job opportunities in those areas.

Currently as the MD and CEO of Medall Healthcare Private Limited, Raju is taking Healthcare Diagnostics, Wellness & Preventive Care to several small towns across the states of Tamil Nadu, Karnataka, Andhra Pradesh, Kerala and Maharashtra. Medall is partnering with several organizations, and also with IIT Madras in providing 24X7 counseling services for students at IIT Madras.

Raju has been honored with the AIIM Excellence Award. He has been recognized as one of the top 50 entrepreneurs in Michigan for the years 1994 and 1995, and was the recipient of the "American Dreamers" award from Crain's Business Magazine for the year 1999. For close to two decades, Raju has been associated with Young Presidents' Organization (YPO). He is the Chairman for TiECON 2013 Chennai Chapter, and also Senior Vice President, MMA (Madras Management Association). He passionately believes in mentoring young entrepreneurs, and plays basketball with equal passion.


In recognition of Raju Venkatraman's contributions as an entrepreneur, leader and manager, IIT Madras and its alumni are proud to confer him IIT Madras Distinguished Alumnus Award.