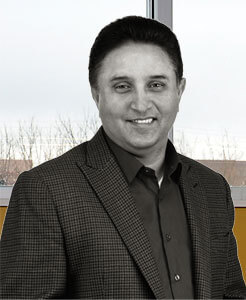 Mr. Krishna 'Kittu' Kolluri
Executive Vice President
Juniper Networks
Mr. Krishna "Kittu" Kolluri is a General Partner focusing on information technology investments at New Enterprise Associates (NEA), USA. NEA is a leading venture capital firm that is focused on helping entrepreneurs create and build major new technology based enterprises. He also serves on the boards of Ring Three Technologies, Port Authority Technologies, SnapTell, and Determina.
Mr. Kolluri has a distinguished career of more than 18 years at the leading edge of the technology industry, in various technical and managerial positions. He started his career taking on engineering and management roles in the early days of Silicon Graphics. He then co-founded Healtheon to introduce healthcare online. Healtheon merged with WebMD in November 1999, in a deal valued at around USD 5.5 billion. He was the Senior Vice-President and General Manager in-charge of Provider Services at Healtheon/WebMD. He then took over as President and CEO of Neoteris in 2001, where he directed the creation of the Instant Virtual Extranet Technology market category, raised venture funding and built a stellar executive team. Neoteris was acquired by Netscreen and subsequently by Juniper Networks, USA. He served as the Executive Vice-President and General Manager of the Security Products Group at Juniper Networks.
Mr. Kolluri graduated with a B.Tech. degree in Mechanical Engineering from IIT Madras in 1986. He received an MS degree in Operational Research from State University of New York at Buffalo in 1988.

In recognition of his outstanding professional accomplishments and entrepreneurial excellence, IIT Madras and its alumni are proud to present him this award.