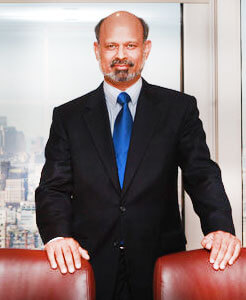 Mr. Girish Venkat Reddy
Chief Executive Officer,
Prisma Capital Partners LP
Mr. Girish Reddy is a founder and Managing Partner of Prisma Capital Partners, a US$ 4 billion asset management company providing fund of hedge fund services to institutional investors. Driven by superior performance, the firm has grown rapidly and is already ranked 37th among hedge fund of funds globally by assets.
Mr. Reddy obtained his B.Tech in Electrical Engineering from IIT Madras in 1977 and Masters in Engineering and MBA from Cornell University in 1980.
Prior to starting up Prisma Capital Partners, Mr. Reddy joined Goldman Sachs in Europe in 1990 and worked with the firm for 12 years, becoming a Partner and co-head of Equity Derivatives. Starting with a single-product business, he successfully built six business units within equity derivatives, making it one of the most profitable products within the company. In recognition of this success, the firm made him a Partner – regarded by many as the most coveted position on Wall Street. He played an important role in the development of the derivatives market in Europe, serving on various committees advising the exchanges on the design and launch of electronically traded contracts.

Before joining Goldman Sachs, Mr. Reddy was instrumental in developing and promoting commercial applications of cutting-edge derivatives strategies as Chief Investment Officer for LOR Associates and as Senior Vice-President for Travelers Investment Management Company for a period of 10 years. Mr. Reddy has published various research papers and is a frequent speaker at industry forums on the use of derivatives in traditional asset management.

Outside the world of finance, Mr. Reddy has actively promoted education and academic excellence through his foundation. He was an early sponsor and currently executive board member of the Indian School of Business, Hyderabad. In addition he serves on the boards of Cornell University Council and IIT Madras Research Park. He is actively involved in sponsoring a secondary school for underprivileged children and supports various women's educational institutions.

In recognition of his outstanding professional accomplishments and contributions to the field of finance, IIT Madras and its alumni are proud to present him this award.