Description
IIT Madras has cooperative agreements with many premier universities all over the world. The most valuable of these are our Joint Doctoral Program (JDP) where the students work with two guides one from IITM and the other from the host Institute. We have these agreements with both NUS, NTU in Singapore. Students from IIT Madras who have been selected for this program, however despite their eligibility are often not able to take up these wonderful opportunities because they cannot bear the expenditure of travel & staying for 2-3 semesters in Singapore.


We would like to build up a fund to support financially deserving students and are reaching out to our alumni in Singapore to help our students achieve their educational dreams. The cost of airfare and visa is already covered by a travel grant funded by alumni. However financial assistance is desperately needed to cover the cost of accommodation, food, books, etc, and other local necessities.


The budget to cover one student for a year has been estimated at ₹15 Lakhs (~28000SGD). Below is an approximate cost breakup for the same.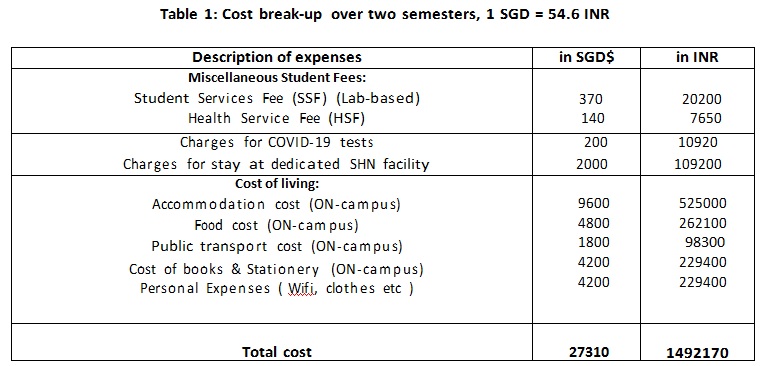 We request you to support these students to progress further in their academic pursuits.
*All contributions to IIT Madras are 100% tax exempted
Scholarship for IITM-JDP with Singapore Universities
No.of Donors :

0
Donate Now
Contributions are eligible for relevant tax exemption